Blogging the Nile | Bedouin, the Hike, and the last of the rip-offs
CAIRO, EGYPT – After three days of different hotels, finally, it's nice to have settled somewhere.
Three straight days of non-stop traveling – Nairobi, Addis Ababa, Khartoum, Cairo, Mt. Sinai, Cairo again – and all I wanna do is pass out. Already. Again, only three days. But in those three days, I've climbed Mt. Sinai, shopped in Khan el-Khalili, taught myself Arabic numbers, and had 6 falafels. It's been a great trip already, and I've only just begun.
But I'm so tired right now, just keeping my eyes open has been the most challenging adventure…
Three Observations:
1. The Bedouin were laughing. After waking up at to take a six-hour drive to the town of St. Katherine, we moved into our $35/night hotel room. My original plan was to rent mattresses and blankets on top of Sinai and camp out overnight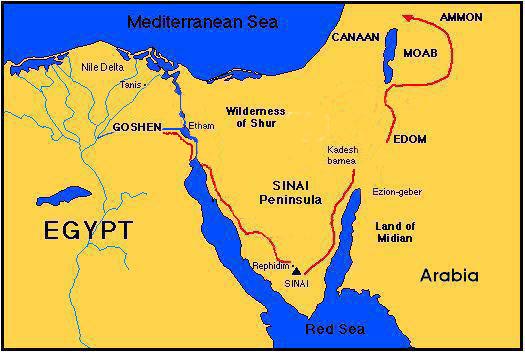 so I could get the blessing of sunset and sunrise, but the powers that be declared that "loco." So I dumped my backpack in the El-Awry hotel, room 86, and headed off to the van where driver George was taking us to the monastery, located right at the foot of Mt. Sinai.

The monastery, a 14th century haven that still houses monks to this day, houses a couple of pretty famous relics, including the supposed well where Moses met Zipporah and the infamous burning bush. (Well, that's not exactly true. First off, the bush is a type that doesn't exist anywhere else on the continent; it's been transplanted from its past location. It's
not really a bush as much as it is a tree. And most importantly, it's not actually the bush. It's a relative… a "direct relative," but still a relative. Sorry.) But the understood reason for traveling to this barren, isolated corner of the world is to climb the mountain where Moses/Charlton Heston saw God and received His 10 Commandments. That's the real reason you check it out. That's the real reason we coughed up $80 to drive down with George and check out what was up. Call it the "Christian pilgrimage," if you'd like.

Right after lunch, we began the trek up the mountain. George drove us to the gate of St. Katherine's where Solomon, our 24-year-old Ludacris-look-alike Bedouin guide met us. His job was to look at us like we were freaks, "lead" us up the obviously laid-out path that Stevie Wonder could have made up by himself, and collect our 50 LE. Later, when we found out that Geroge had duped us and we weren't required to pay for a guide at all, we gritted our teeth and went on in life, but at the time, he was a
great friend made. A great friend… that you have to pay to have.

We worked for probably a half kilometer when Claude, the 50-something year-old man who rode down with us, asked (earnestly): "Hey, are we there yet?" Solomon responded with a giggle chuckle belly-laugh that we hadn't even started. This is the way of the Bedouin; renowned for his simpleness, natural knowledge, survival skills, and cutting sarcasm.

Before reaching the mountain itself, however, Solomon took us by a few of his Bedouin friends/business associates, whose job was to convice touirists like us that riding a camel would make our lives simpler in 2 ways. 1) We wouldn't have to walk, and 2) our wallets would be 60 LE lighter. All of us declined, insisting we could hike the 3 miles straight-up the mount, see the sunset, and skip back down under our own power.

8.6 minutes later, Lauran and Bonnie (Claude's wife) had hopped on their own dromedaries. Cha-ching!
2. "And its only just begun…" With the camels leading the charge up the hill and Solomon coaxing Claude to keep walking, iGor (my iPod) and I
turned on the jets, climbing the steep incline of Sinai at a strong pace. At the top of the "first section," I'd hiked straight up for 2 hours. No problem.

Here, however, is where the mountain gets really exciting. At this point, camels can't (or aren't allowed to) go any further. All five of us had to walk up 750 steps, on our own feet, to get to the apex. Again, iGor carried me through, and although I had to battle exhaustion, the occasional

taste of vomit in my mouth, and a mild but quietly threatening case of double leg cramps, I hit the top. And boy, was it worth it.

Laid out before me were the choppy brown mountains of Sinai. Barren and treeless, they weren't much to look at, but with the Egyptian sun, Ra, ready to call it a day, they were lit up into light
browns, burnt siennas, and reds, perfect with the bright blue, orange, and pink sky. At the top, along with the breathtaking scenery, was the most picturesque, photogenic church, illuminated by the few shards of daylight that were still peeking over the western ridge. It was definitely a sight I'll never forget in my life.

Aside from narrow steps to walk down in the dark, the pitch-black sky/no moon combination that didn't even try to light our path, twisting my ankle, Bonnie's slide-into-home on the scree, the 2 rearrangements of my ankle, and the overall risk of tripping and rolling the entire way down on my face, the hike down wasn't too bad. While I desired to be back in the hotel room (which sounded a lot better now then it had then), I kept thinking back to how I'd just stood where Moses had met God, and I felt like I could go on strong. After what seemed like hours of hiking down, we made it back to the van where George was waiting, ready to take us back to the hotel for a good night's sleep earned.
3. Drove me crazy! It cost us $80 to travel to Sinai. That's approximately 920 LE round-trip. Split four-ways: 230 LE. A relatively ok, easy to swallow price.

According to the
Lonely Planet and Rough Guides guidebooks, the trip on the luxury East Delta Company bus line would cost 54 LE. Round trip.

Needless to say, I was a bit frustrated. We were picked up at the airport by George for 80 LE, when a normal cab would have charged us 30 LE on the high end. We asked how much it'd cost for George to take us to the Egyptian Museum the next day, and he told us 100 LE. Normal taxi fare from the furthest end of town to the other runs upward of 25 LE. Getting the picture?

For obvious financial reasons (and the fact that the night we got back from Sinai we successfully used 2 taxis), we've decided to ditch George and use public transportation. Horay! Let the cheap life begin!
And just cuz I'm in a giddy mood...
4. BONUS OBSERVATION: "How bazaar, how bazaar…" When we got back to Cairo, it was only just 4 or , and really, night life in Cairo begins at like 8.
In other words, the night was entirely too young, and while I was exhausted from the previous day's activities, I wanted to take advantage of where I was. So I was pumped to get Lauran out of the guesthouse and into a taxi (40 LE round trip, but split between both of us) so we could visit the tourist hot-spot, Khan el-Khalili. Basically, it's just a huuuuuge bazaar where every unnecessary souvenir is sold.

When I was in Italy, I made a point of getting an Italian soccer jersey, not because I play soccer or wear soccer jerseys, but because everyone else does. I've yet to get my Kenya shirt,
but I did make a goal of getting a high-quality Egyptian National Team jersey at a relatively ok price. My big mistake was not shopping around, though, when it came down to the small stone pyramids I eyed and admired. I picked up 2 sets for 100 LE, then later found out I could get 2 just like it for 40 LE! Danget! Ah well, really, that's just a difference in a couple dollars, and the experience made it worth it.

On our way out, we got haggled by a guy who carved plates out of alloy metals, and even though I didn't want to buy anything, his presentation was simply incredible, so I went ahead and tossed him 32 LE for a plate I'd watched him carve. Pretty cool memory, I'd say. We hailed our taxi, hopped in, and made it safely back to the guesthouse.
Ok, well now I'm exhausted. Gonna get some rest now. Talk to you later!
-cw, (or in Arabic,
)